BREAKING THE MOLD.
The Siberia 840 is the perfect gaming headset. Armed with a lag-free wireless connection, transmitter with OLED display, on-ear controls, crystal clear mic and Bluetooth connectivity, the Siberia 840 is everything you need for every gaming platform.
*No Lag
The Siberia 840 uses continuous frequency-hopping technology to prevent lag between your game and your headset.
*Surround Sound
Immerse yourself in incredible virtual 7.1 surround sound. While most headsets simply feature Dolby Headphone, we feature three different types of Dolby technologies.
*Soundscape
The Siberia 840 delivers exceptionally-tuned audio that is perfect for gaming, movies, music and more.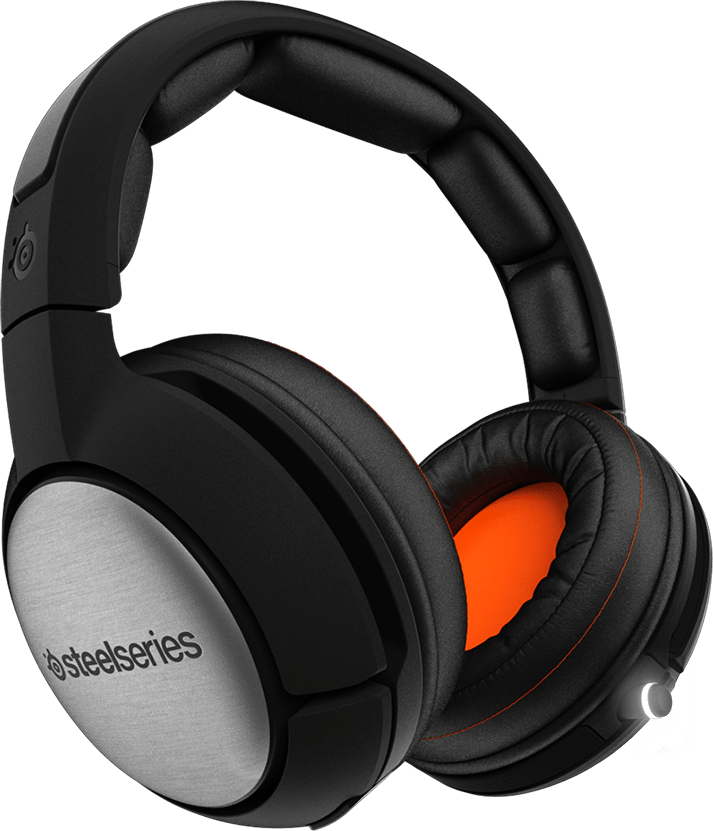 Siberia 840 with Bluetooth
Bluetooth connection lets you chat via VoIP clients through your mobile devices. Gamers can also take calls and stream music, all without ever having to take off their headset.
SEE YOUR SETTINGS.
No more looking at blinking LEDs to decipher your current settings. The Siberia 840 transmitter box has a vibrant OLED display the shows all of your settings and more.
*Display
Profiles, audio sources, battery life, and volume are shown with crystal clear visuals. The large display makes it easy to see and operate from the comfort of your couch.
*Wireless Controls
The on-earcup controls make adjustments quick and intuitive. With the control wheel, you can adjust volume and navigate the most commonly used settings right from your seat.
*Visual Chat Mix
You control the audio level balance between the action in your game and the communication from your team. Simply turn up the chat audio to ensure hearing your friends over the explosions. Or turn down your friends if you want to focus on the action.
Hot-Swappable Batteries
Never lose power, never go wired. We included two 20-hour lithium-ion batteries, which can be changed mid-action without the hassle of any cables or wires. The spare battery charges inside the receiver so it´s ready when you need it most.
MAKE IT YOURS.
*Easily Customizable
Right out the box, the Siberia 840 is ready to be used. With the OLED receiver, gain access to basic controls, settings, volume, and ChatMix without ever needing drivers.
*Personalize with Engine
With SteelSeries Engine, get the most out of your gear when you tie it with SteelSeries Engine 3. Manage your profiles, equalizer settings, and OLED GameSense features all through the user-friendly software.
*Complete control
We've designed the Siberia 840 to work with all of your devices. Wherever and whatever you use for entertainment, we have you covered.
Specification:
SPEAKER DRIVERS
40mm Neodymium Drivers
Effective Range: 10 m, 30 ft
Headphone Frequency Response: 20Hz - 20000KHz
Weight with Battery: 318g, 11oz
Weight without Battery: 297g, 10oz
Max Volume: 100dB* SPL @ 1kHz
Ports: Wired Mode / Share Port,
Chat port, mini USB FW update port
Microphone:
Frequency Response: 100Hz - 10000Hz
Mic Pattern: Unidirectional
Microphone Sensitivity -44 dB
Microphone Impedance 2200 Ohm
Indication: Red LED on mute
TRANSMITTER.
Wireless Range: 12m, 40ft straight line
Latency: Ports: Analog In, Analog Out, mini USB,
Optical In, Optical Out, Power
Battery Type: Rechargeable Lithium-Ion, 1000mAh
Battery Life: 20 hours per pack, typical usage
PACKAGE CONTENT.
Siberia 840 Headset & Transmitter
2 Battery packs
6 Cables: Optical, USB, Power, Analog, Mobile, Chat
Power adapter with 4 worldwide plug ends
Manufactured under license from Dolby Laboratories