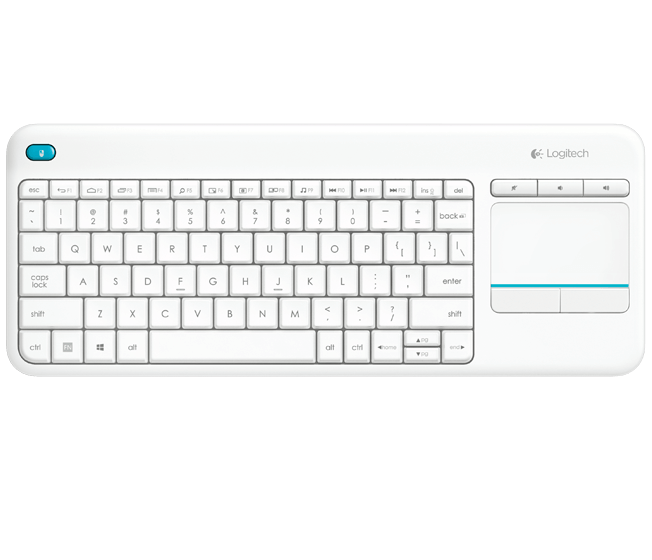 Designed for convenient controls.
Entertainment PC-to-TV should not be a hassle. Relax and navigation of your computer that is connected to the TV from the comfort of your couch!
Wireless keyboard with integrated touchpad.
Enjoy entertainment control PC-to-TV that seamlessly, without disruption and inconvenience caused by the keyboard and mouse are terpisah.Tombol without sound comfortable and large touchpad (3.5 inches) makes the navigation was very easy.
Wireless range 10-meter (33-feet).
Watch videos, browse the web, chat with friends and more, without pause or intermittent connections disturbing.
-Koneksi Responsive without problems even in large spaces.
Wireless -Jangkauan may vary depending on the usage environment and computer settings.
TV keyboard that can be used with any media.
You instantly feel comfortable using K400 Plus. Its layout is designed to gain media interaction relaxed.
Arrow-key and volume controls affordable.
-button Second left click lets you navigate and make selections with both hands.
-Shortcut For Windows® and Android ™ users.
-Hot Key can be used as a keyboard directly removed from the casing; does not require any configuration.
ADDITIONAL FEATURES:
The plug-and-play.
K400 Plus arrangements very easy. Post a tiny Unifying receiver into the USB port and start having senang.Gunakan receiver keyboard to connect up to six Unifying device on your computer.
Battery life for 18 months.
You may have forgotten this keyboard require batteries.
-Can Said to eliminate all the hassles of battery replacement.
-Use Knob on / off switch to prolong battery life.
-Usia Battery has been tested with the use of two hours per day. Actual battery life will vary, depending on use, settings and environmental conditions.
Can be used with a variety of operating systems.
Designed for use with Windows® 7, Windows 8, Windows 10 and later versions, Android ™ 5.0 or above, and Chrome OS ™.
Controls can be set.
Use K400 Plus is so removed from the casing or adjust settings and touchpad buttons with Logitech software Options ™.
Specification:
Connection Type: Logitech Unifying Protocol (2.4GHz)
Special Keys: Mute, Volume Down, Volume Up
Connection / Power: The knob On / Off
Details Batteries: 2 x AA
Age Batteries (non-rechargeable): Up to 18 months
Age buttons: up to 5 million beats
Noise type: in the range of 55 dBA for all buttons
Wireless range: 10m (33 feet)
Dimensions:
-overall
Height: 139.9 mm (5.5 in)
Width: 354.3 mm (14.0 in)
Depth: 23.5 mm (1.0 in)
Weight: 380g (with battery)
-Touchpad
Height: 76 mm (3.0 in)
Width: 47 mm (2.0 in)
System Requirements:
Support Platform / OS
Windows® 7, Windows 8, Windows 10 or later
Android ™ 5.0 or the latest version
Chrome OS ™
USB port