WIRELESS MECHANICAL GAMING KEYBOARD
High Performance Gaming
G613 is a new generation wireless keyboard designed for gamers who want high performance capabilities from their mechanical switches and to enjoy the freedom of wireless gaming. The G613 is equipped with wireless LIGHTSPEED ™ technology for super 1MD fast report rate, Bluetooth® connectivity for multi-host connections, the best Romer-G mechanical performance, 6 programmable G buttons and long battery life.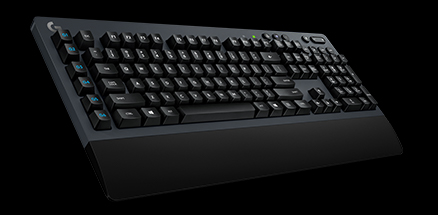 LIGHTSPEED WIRELESS
Advanced Wireless Performance
LIGHTSPEED ™ wireless technology is an optimized, end-to-end wireless solution capable of delivering a 1 md report rate for super fast and responsive wireless connectivity. This professional grade wireless solution is embedded into the G613 Gaming Keyboard to provide highly responsive and consistent performance.
Learn more about LIGHTSPEED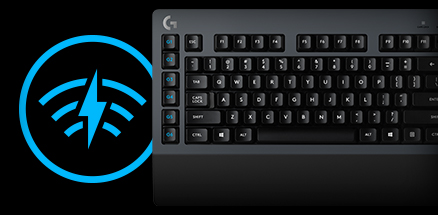 SWITCH MECHANICAL ROMER-G
Mechanical Grade Pro Switch
The Romer-G mechanical switch delivers precise mechanical performance with the best nuance and durability up to 70 million keystrokes. As the best professional esports option, the Romer-G switch has a short actuation at 1.5 mm, which is 25% faster than standard mechanical switches in general. Romer-G is a perfect blend of speed, precision, and silent performance.
Learn more about the Romer-G switch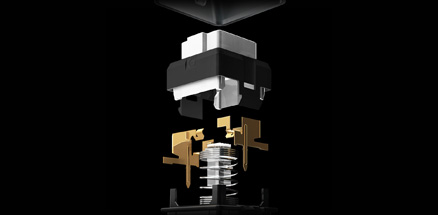 KEY GONE CAN BE DIPROGRAMED
6 Programmable Keys
Six dedicated G buttons can be programmed with custom macros and in-app commands. Run complex actions in a simple and fast way with just one keystroke. The G button can be applied per game or per application profile for customization and convenience needs. Use Logitech Gaming Software (LGS) to organize and manage profiles, commands, and more easily.
Download LGS Here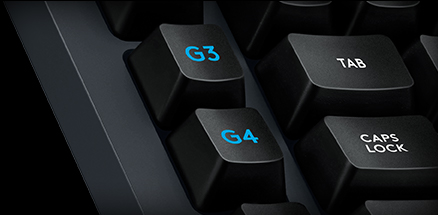 CONNECTED TO MULTI DEVICE
With LIGHTSPEED or Bluetooth
Connect to wireless LIGHTSPEED for 1 md super fast report rate or connect to other devices with keypad only using Bluetooth® connectivity. With the multi-host Bluetooth function, you can pair up to a maximum of 8 devices. Switch to high-performance wireless LIGHTSPEED or Bluetooth at any time quickly and easily.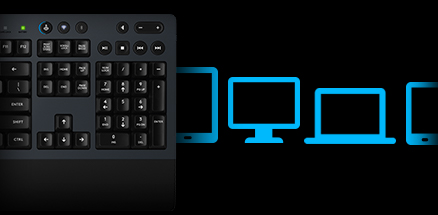 POWER HOLD BATTERY
Up to 18 months
Only by using 2 AA batteries, the G613 can be used up to 18 months. 1 When the remaining 15% of the battery life, the LED status indicator light on the keyboard and Logitech Gaming Software notification will alert you before you experience critical moments.
Specifications:
KENOP ROMER-G:
Durability: 70 million keystrokes
Actuation distance: 1.5 mm
Actuation strength: 45 g
Total distance traveled: 3.0 mm
AGE BATTERIES:
18 months1
PHYSICAL SPECIFICATIONS:
Height: 478 mm
Width: 216 mm
Thickness: 33 mm
Weight: 1410 g, mouse only
Weight with 2 AA batteries: 1.460 g
PART NUMBER:
920-008402
WARRANTY INFORMATION:
2 Year Hardware Limited Warranty
SYSTEM REQUIREMENTS:
LIGHTSPEED:
Windows® 7 or later
Mac OS X 10.10 or later
Chrome OS ™
Android ™ 3.2 or later
USB port
Bluetooth:
Bluetooth enabled device with Windows® 8 or later
Mac OS X 10.12 or later
Chrome OS
Android 3.2 or later
iOS 10 or later
PACKAGING CONTENT:
G613 wireless mechanical keyboard
USB Receiver LIGHTSPEED
Phone holder
Extended USB cable
2 AA Battery
User documentation