A MATERIAL ADVANTAGE Next-Gen Performance, Advanced Design
G512 is a high performance gaming keyboard, delivering 1 ms report rate and featuring choice of advanced Romer-G Tactile or Romer-G Linear mechanical switch. Full-spectrum RGB combined with LIGHTSYNC technology takes the lighting experience with your games to a whole new level. Aluminum alloy enables a bladelike chassis with a beautiful brushed metal finish.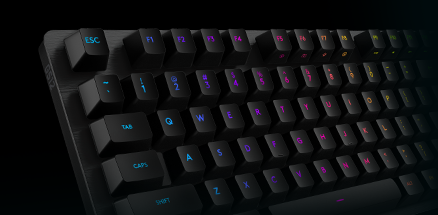 RGB AND LIGHTSYNC Customizable Full Spectrum RGB
G512 is full-spectrum ~16.8M RGB with customizable per key lighting. Create your own RGB animation effects or choose from preset lighting effects and animations. And with new LIGHTSYNC technology, lighting is driven by games to deliver the most immersive RGB experience ever.1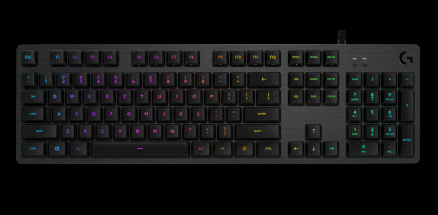 CHOICE OF MECHANICAL SWITCH Performance to Suit your Playstyle
Romer-G is quieter and 25% faster than standard mechanical switches. Now available in two distinct versions: Tactile or Linear. Romer-G Tactile is the original profile, providing a discernible actuation point that you can feel, while Romer-G Linear provides a completely smooth keystroke.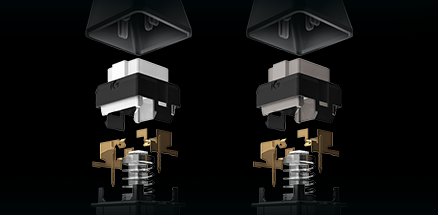 AIRCRAFT-GRADE ALUMINUM ALLOY Strength and Beauty
G512 is crafted from incredibly strong and durable 5052 aluminum-magnesium alloy which allows for both a minimal design and a beautiful aesthetic. The rigidity of 5052 alloy also provides a sturdy, non-slip chassis that houses a full suite of features for an unbeatable gaming experience.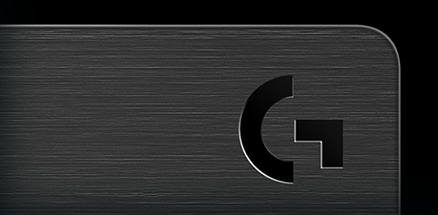 USB PASSTHROUGH For Charging and Data
Convenience and speed are directly within reach. The additional, dedicated USB cable connects the USB passthrough port to its own input for full power throughput and data speed. Plug in a device to charge or plug in a mouse to charge your adversaries, without missing a beat.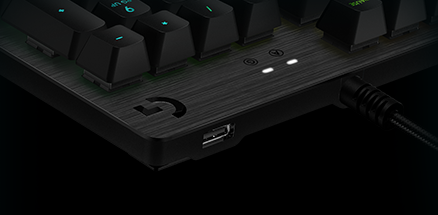 FULL FUNCTION KEYS Media and Lighting Control
Media and lighting controls are right at your fingertips. Use the FN key to control volume, play and pause, mute, toggle game mode, change lighting effects, etc. Use the FN toggle feature in Logitech Gaming Software (LGS) and configure your function keys to perform these alt commands by default.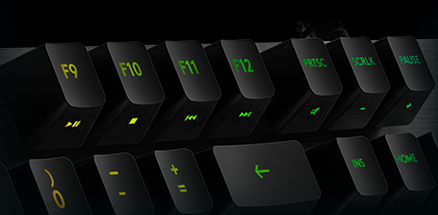 DEDICATED GAMING FEATURES Game Mode and Onboard Memory
Don't lose a game because you fat-fingered the Windows key. Toggle game mode with FN+F8. Deactivate additional keys using LGS.
Store per-key RGB lighting profiles in the onboard memory for use on any system.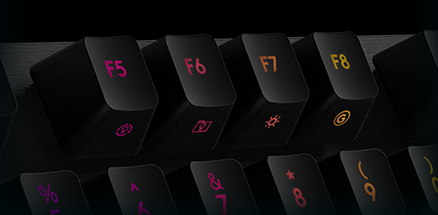 26-KEY ROLLOVER AND ANTI-GHOSTING Push All the Buttons
Press multiple keys simultaneously in any order and get exactly what you intended with 26-key rollover.
Performance-tuned anti-ghosting gives you reliable control when multiple gaming commands are given simultaneously.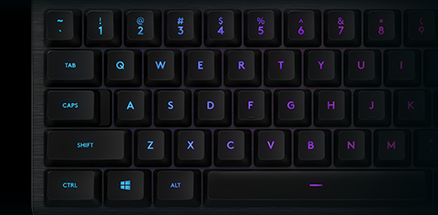 PROGRAMMABLE MACROS Simplify Complex Tasks
Use Logitech Gaming Software to program custom functions and macro commands on F1-F12 buttons. Make your gaming life easier. Execute complex commands, or unleash a timed series of actions or spells with the press of a button.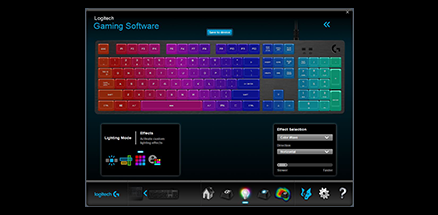 PART NUMBER:
Black,Versi Tactile Carbon: 920-008763
SPECIFICATIONS:
PHYSICAL SPECIFICATIONS:
Height: 132 mm
Width: 455 mm
Depth: 34 mm
Weight: (w/o cable): 1020 g
ROMER-G TACTILE OR LINEAR SWITCHES:
Durability: 70 million keypresses
Actuation distance: 1.5 mm
Actuation force: 45 g
Total travel distance: 3.2 mm
KEYBOARD SPECIFICATIONS:
Connection Type: USB 2.0
USB Protocol: USB 2.0
Indicator LIghts (LED): Yes
USB Ports (Built-in): Yes, 2.0
Backlighting: Yes, RGB per key lighting
Special Keys:
Lighting Controls: FN+F5/F6/F7
Game Mode: FN+F8
Media Controls: FN+F9/F10/F11/F12
Volume Contros:FN+ PRTSC/SCRLK/PAUSE
Programmable FN keys via Logitech Gaming Software
WARRANTY INFORMATION:
2-Year Limited Hardware Warranty
SYSTEM REQUIREMENTS:
Windows" 10, Windows 8.1, Windows 8, Windows 7
USB port 2.0 (for keyboard)
Second USB port (for USB passthrough port)
(Optional) Internet access for Logitech Gaming Software
Requires LGS 8.98 or higher for advanced settings.
PACKAGE CONTENTS:
Gaming keyboard
User documentation